West Roxbury's Premiere Dog Walking Service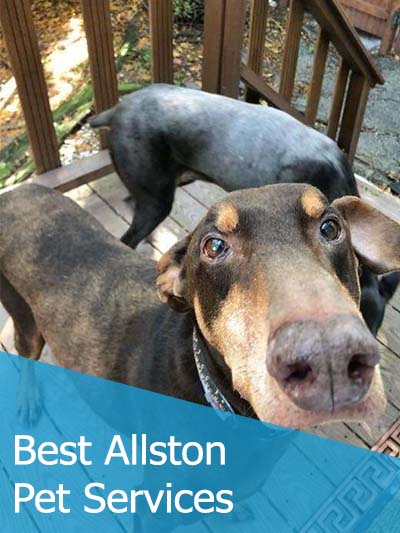 Paws to Consider is a dog walking and pet sitting company that serves West Roxbury, MA and surrounding areas. We set a new standard when it comes to trusted care for your pet. Ever wonder exactly where your furry family member is being walked and what adventures he or she is up to? With Paws to Consider, you receive real-time updates after each outing including a GPS map of the walk route and photos. Our professional caring walkers pride themselves on providing complete transparency to our clients using the latest technology. We conveniently also enable you to schedule services and pay your bill online.
We understand that our West Roxbury clients lead busy lives and sometimes need a helping hand in pet care as well as peace of mind knowing their pet is safe and loved when they cannot be at home. That's why in addition to dog walking we also provide cat care visits, overnight pet sitting, and pet transportation services.
For our dog walking services, a member of our team will meet with your dog for free to get to know them, their personality, needs, and environment. We can then pair your dog with the right walker so that all of their needs will be met with each visit. We actually pair each dog with not one but two walkers so that back-up care is always available.
We are fully bonded and insured, and a member of the National Association of Professional Pet Sitters (NAPPS). This national, non-profit pet setting association is dedicated to raising industry standards, a mission that we wholeheartedly believe in.
Contact us to learn more about what makes us a five-star dog walking company, and schedule a free meet and greet between us and your dog.
Just some of the pet care services we offer our West Roxbury clients:
Pet Transportation
Cat Care Services
Best Pet Sitting Services
Pet Walking
Local Dog Walking
Dog Sitting
Affordable Dog Day Care
Pet Day Care
Modern Dog Walking
Cat Care
Modern Pet Sitting
Premiere Dog Walking Service
Pet Boarding
Doggy Day Care
Affordable Dog Walking
Dog Walking Services
Cat Sitting
Dog Boarding
Reliable Dog Care Services
Dog Walk
[expand title="Read More…"]
On This Page
Just some of the pet care services we offer our West Roxbury clients:
A Modern Solution to Dog Walking in West Roxbury
Dog Walking Services in West Roxbury
Cat Care Visits in West Roxbury
Pet Sitting in West Roxbury, MA
West Roxbury Pet Transporting
Paws To Consider West Roxbury Reviews
About West Roxbury, MA
Local West Roxbury favorites
Related West Roxbury, Massachusetts, Dog Walking Searches
Paws To Consider West Roxbury Reviews
"Kimberly and her team are the best!!! They truly love and are knowledgeable about pets (they walk our hi-energy "teenage" dog). I also love how flexible she is about work and life schedules shifting a bit each week due to working from home, travel, sick kids, etc. Give them a try: PTC has reasonable rates, is responsive and caring and you'll be supporting a local business and not a soulless app!"    Kristen B.
"We love Paws to Consider! When we first hired Paws to Consider, Joel came over personally to meet our active pup Boone. He built comfort and a relationship with us that we really appreciate. Boone has two regular walkers, and each walker has been personally introduced to Boone before entering our schedule. We really appreciate the communication and the care that has been taken to ensure that each walker is a great match for Boone. "
"We use Paws to Consider for both regular walks and some last-minute walks. Joel and his team have been prompt and reliable for the regular walks, and really great about filling in the last-minute walks when we need them. The online interface is easy to use for scheduling and payment. We are so appreciative to hear how each walk goes in the follow-up email, which helps us know how Boone is doing during the day. Boone is tired and happy when we get home later in the day, which is the best sign that Paws to Consider does a great job. We give them our most enthusiastic recommendation!"    Annie Morgan
---
Regardless of whether you're on vacation, going on a business trip, or it is solely another day at work, Paws to Consider is available to feed, play with, walk, and more importantly cuddle your precious pets on your behalf. We're happy to offer you total reassurance that those furry friends of yours receiving plenty of love and affection whilst you're out, from top dog walking crew in West Roxbury (tummy rubs and playtime thrown in for free)!
Paws to Consider was originally established in 2002 and has for over sixteen years been walking people's dogs, and with our friendly crew of dog walking professionals, Paws has continued to provide outstanding pet care and dog walking services in and around Brookline, Roxbury, West Roxbury, Allston, Jamaica Plain, and Hyde Park.
With a focus on quality, reliability, and attention to detail, Paws is always prepared to go that extra mile to make sure that your furry friend enjoys a fantastic walk. Paws is adequately insured and bonded and our walking crew are vetted, experienced, background checked and suitable trained to work with all types of situation and dog. Each customer is given a principal and support dog walker to guarantee availability for walks, and so that the walker can build up a deep relationship and connection with your dog.
A Modern Solution to Dog Walking in West Roxbury
Have you ever thought you might like to hire a dog sitter but wonder where exactly your furry buddy might end up and what antics they'll get up to? How can you be certain that you're able to depend on the walker to look after your pet and keep them safe? When using Paws to Consider, you won't ever be kept in the dark when hiring us to walk your dog or sit for your pet. We provide a quality service by sending our customers photographs and live updates each time that we are in charge of their pet. We even produce the GPS route taken by your dog while on its neighborhood walk all around West Roxbury, so you'll know precisely where they went to get their latest exercise!
Paws to Consider was established in 2002, with the intention to stay ahead of the existing West Roxbury dog sitting and walking companies, by presenting total transparency to pet owners. Our customers (and their dogs!) loved our unique approach so much that we're now growing into new cities and neighborhoods as we speak. We're adequately insured and bonded, and are registered with NAPPS (the National Association of Professional Pet Sitters). Our sitters and walkers all walks of life, yet they all share one common trait: they're all crazy about pets.
Our dog walkers have been trained and vetted so that they can handle dogs of any size or breed. If you're a new customer, we'll arrange a free meet and greet at your home in West Roxbury between your dog and one of our team members. Since every pet is different, they'll invest time to get accustomed to your pet, their likes, their personality, and their environment. This will enable us to match up your pet with one of our team who knows their needs perfectly. In reality, we can even go so far as to match your pet with an extra walker so you never have a gap in services.
Additionally we give every single customer the opportunity to quickly pay their bill and book in their services online. Here is an overview of the services offered.
Dog Walking Services in West Roxbury
We can provide you with three prices and dog walking durations (walks of fifteen, thirty and sixty minutes) which enables you to choose the best one for your particular dog. We come straight to your home and take your pet on a leashed stroll in your neighborhood, which we log via a GPS tracking of the walking route. Any pacing and interplay with other dogs is actually modified according to the needs and behavior of your dog.
At your home, the walker will then proceed to refill your dog's water bowl and send an extensive daily note that includes the GPS route and the walk summary straight away to your email address. We can additionally let you know if the dog needed to be toweled off on wet days or had their paws washed. Naturally, your dog could also get a treat (if authorization is granted), patting, belly rubs, and plenty of attention! Dog owners who want walks done on all 5 work days (Monday to Friday), get a discount.
Cat Care Visits in West Roxbury
Cats need companionship and attention too if their owner can't be there. Included in our cat care visits are: cleaning out the litter tray and bringing the waste to the outside trash bin, filling their water bowl, and putting out new wet and dry food according to your instructions. Based on exactly how sociable your kitty is, we'll keep them company and play with them for approximately thirty minutes. Our cat care visitors always finish each visit by leaving behind a note regarding how your cat is behaving and also any important information you might like to be aware of.
Pet Sitting in West Roxbury, MA
Are you leaving West Roxbury for a few days or weeks and looking to find somebody to sit with your pet whilst your house is empty? Our handy sitting services offer that welcome peace of mind, when you're conscious that somebody trustworthy is in your house tending to your pet and ensuring that they are safe. We can stay overnight in your home together with your pets and will always take your dog (or dogs) for a walk 3 times per day. If required, our pet sitters can also water the plants, collect the mail, and inform you how your pets are doing through daily emails and texts.
West Roxbury Pet Transporting
We can also carry your precious pet to the vet and back to your West Roxbury home, if for some reason you cannot do it. This service is readily available for a dog, cat, or other pet. Fees are determined by where you are transporting your pet to and from.
We at Paws to Consider have long been elevating the level of West Roxbury pet sitting and dog walking services by guaranteeing that pets are given care and attention while keeping their owners informed at all times. Whether you require somebody to care for your pets for extended periods when you are traveling, or day by day while you're working, we are here and available and ready to help you and your pets. Call us for additional information on our services and hopefully to schedule a complimentary meet and greet for us, you and your dog.
About West Roxbury, MA
If west Roxbury isn't the most friendly suburb in Boston, the word friendly needs a new definition. Besides the civic activism, the neighborhood harbors more glamor than it lets out. It's no wonder that most prominent authors found it fascinating. Ralph Waldo Emerson, Nathaniel Hawthorne, and Henry David Thoreau are some of the celebrated writers who found solitude under the wings of the neighborhood. They must have unearthed the tranquility in the suburb and found it relaxing. Whatever the case, West Roxbury proved to be the best place for them.
There are many parks and restaurants in the neighborhood that you will find pleasant for a family day out and many more fun activities. Boston Museum of Fine Arts, Millenium Park, Kid's Fun Stop and Billings Field are some of the places you'll find quite amusing. The more than 35,000 people that form West Roxbury are the envy of Massachusetts. And they should be, with all there is to take in.
Are you new to West Roxbury? Check out these local favorites:
Related West Roxbury MA Dog Walking Searches
dog walking services West Roxbury MA
doggy day care in West Roxbury
West Roxbury pet care
pet services near me West Roxbury MA
pet sitting rates in West Roxbury
West Roxbury pet services
local dog walkers West Roxbury MA
cat sitters near me in West Roxbury
West Roxbury dog walking companies
dog walking rates West Roxbury MA
pet walk in West Roxbury
West Roxbury dog walking prices
find dog walker West Roxbury MA
dog walking services near me in West Roxbury
West Roxbury doggy care
Paws To Consider supports clients throughout all of West Roxbury, Massachusetts, including the following zip codes: 02132. Click here to return to our service area page.
[/expand]
Monday - Sunday      9:00AM - 9:00PM
Walking Hours          10:00AM - 4:00PM
We proudly serve the following areas: Jamaica Plain, Brookline, West Roxbury, Roxbury, Roslindale, Hyde Park, Allston, Mission Hill, Brighton, Dedham, Dorchester, Chestnut Hill, Mattapan, South Boston, Needham, Newton
We provide service to our clients 7 days a week and will be there when you can't, to love your pet (almost) as much as you do! Paws to Consider is fully insured and bonded, and a proud member of the National Association of Professional Pet Sitters (NAPPS).
24 Hall St.
Jamaica Plain, MA 02130